A ministry of service out to make a global impact to improve health by addressing well-being solutions.
We are a Christ-centered business using biblical principles and an attitude of servant leadership to guide our operations [SERVICE].
Our faith and relationship with Jesus Christ are the backbone of our life and business [FAITH].
We honor the Lord in everything we do; we use integrity and wisdom in decision making [WISDOM].
We recognize that the Lord gives each person unique gifts, passion, and dreams to make a difference in the world [PURPOSE].
We enjoy the gifts the Lord has given us and we share the love of Christ through our actions, attitude, and words. Life is about keeping it simple and this is as simple as it gets [SIMPLICITY].
We value knowledge and understanding, seeking both from the Lord and sharing what we learn [GROWTH].
We treat everyone fairly with kindness, compassion, and respect. We're about having the mind of Christ and showing people the same mercy and grace [FAIRNESS].
We recognize that spiritual growth is part of all areas of life and is required to experience [WELL-BEING].
We extend to others the grace and mercy God extends to us. We meet people where they are in life sharing our hearts with their hearts [NURTURING].
We communicate the gospel respectfully, lovingly and appropriately, with wisdom and boldness [TRUTH].
We serve women who are ready to live with vitality by providing them with informational support, education, and encouragement so that they can achieve and sustain optimal well-being. We serve all women with a special focus on women of color to break down health disparities and inequities. Learn More.
Services
Fitness Instruction
Health Advocacy & Education
Women's Retreats
Workshops & Training
We serve small to medium sized health and wellness organizations that are ready to work with a subject matter expert – service oriented & results driven – so that they can make their company mission thrive. Learn More.
Consulting Services

Management Consulting
Maternal and Child Health Consulting
Speaking Engagements
Strategic and Organizational Consulting
Women's Health Education Consulting
Workshops & Training
 We love uplifting women in ways that are fun and engaging.
We believe in the power of community. "As iron sharpens iron so one person sharpens another." Proverbs 27:1
We are fully committed to adding value to all areas of our clients and customers lives –mind, body, spirit, and soul.
Join us every 1st Monday for Motivation Monday Calls where we lead strategic prayer calls for women in business, and those who lead or aspire to lead leadership roles. We're excited to serve you and have you as part of our growing community. Join here.
Welcome to the virtual office of Just Us Women Productions, LLC. This health advocacy company is a nationally recognized New York State certified Minority and Women-Owned Business Enterprise (M/WBE). We help individuals and organizations achieve success in well-being on a personal, professional, and organizational level through three touch-points. 1) Direct Services to individuals 2) Consulting Services to organizations and institutions 3) Partnerships and networking with like-minded organizations and individuals. We have a special focus on reaching women of color to break down health disparities and inequities throughout their lives.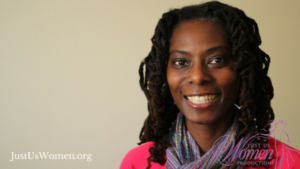 Tamara Wrenn
Founder & Steward
I love my vision to make a global impact as a health advocate. I believe that I can help my clients dig deeper, embrace their spirituality, and address the whole-self for greater success – while making every step feel like they are never alone. I am fully committed to letting my light shine. I'm a bit quirky and I love music, dancing, reading, learning, adventurers, and prayer time.
My Back Story
Raised in the Bronx during the birth of hip-hop, working "in my neighborhood" from an early age gave me a unique perspective of the community, as well as a heart for its people. It was in this setting that I gained the professional experience to start my business.
I earned my Masters Degree in Guidance and Counseling from New York University and my continuing education includes staying abreast of trends in women's health, public and perinatal health, and natural remedies. To add some balance to my life I lead Zumba® Fitness and SharQui® Bellydance workout classes where I dance like nobody's watching.
I've had the pleasure of working nationally providing technical assistance and training on subjects that include the long-term impact of improving women's wellness throughout the lifespan, putting the theory of the Life Course Model into practice, and applying the model as an intervention to reduce racial and ethnic disparities in infant and maternal  mortality.
My volunteer life is full. I am the immediate past president and board member of the Childbirth Education Association of Metropolitan,NY, a historically rich organization spanning over 40 years of providing woman-designed childbirth education and teacher certification. I also serve as the Executive Director of the Foundation for the Advancement of Midwifery. An organization dedicated to increasing access to midwives and the midwifery model of care.