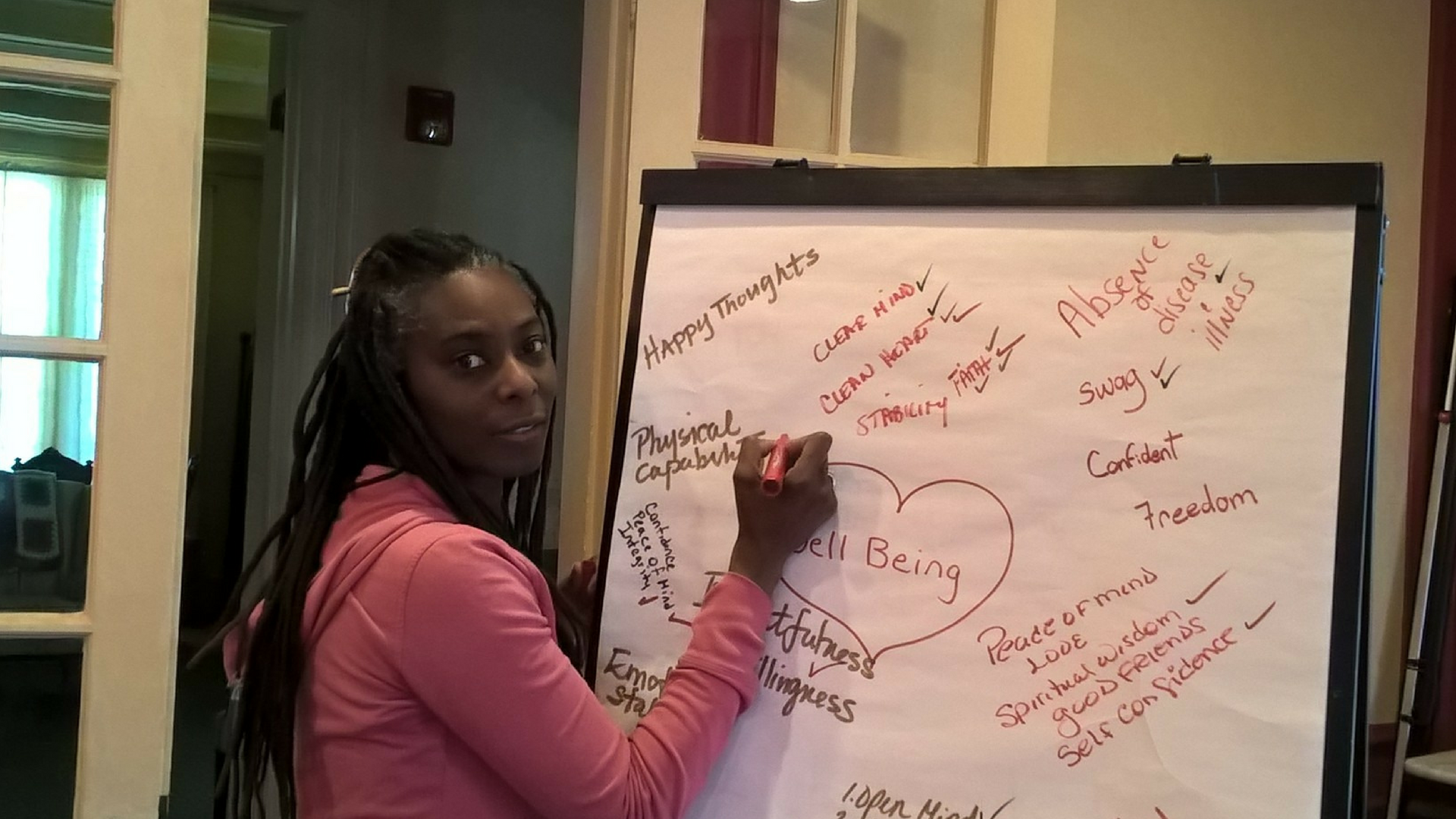 We are a well-being advocacy company that aims to bridge the gaps in well-being with an emphasis on vulnerable and marginalized communities of color. We aim to make a global impact one person at a time.

Once upon a time, when I was a girl growing up in the Bronx, I decided that I wanted to create my destiny and start a business when I grew up. Over the years the concept for my business changed based on my life experiences and maturity, but I never let go of my dream. Sometimes I got side-tracked, but I always found my way back home. When I became a woman, I combined my love of teaching, advocacy, wellness, and God to create Just Us Women Productions, LLC. Essentially my North Star, my purpose, the place where I engage in satisfying work that makes a positive difference.

Our Top Core Values
We are a Christ-centered business using biblical principles and an attitude of SERVANT LEADERSHIP to guide our operations. Our FAITH and belief in following God's unique PURPOSE for our work is the foundation that this company is built upon and the force that keeps it moving forward. We use INTEGRITY and WISDOM in decision making. We aim to treat everyone with FAIRNESS and HONESTY.
Contact us to schedule an appointment.
    We love uplifting and bringing joy to our clients and customers.
We believe in the power of community.
We are fully committed to adding value to world and the lives of those we serve, directly and indirectly.
"As iron sharpens iron so one person sharpens another." Proverbs 27:1
Contact us to schedule an appointment.
Welcome to the virtual office of Just Us Women Productions. Our team currently serves clients in the United States, in person and remotely, with a vision to expand into the Caribbean by 2019. The company is a New York State certified Minority and Women-Owned Business Enterprise (M/WBE).
We use a 1-2-3- approach to client services.
1. We have ONE unique vision; a well-being advocacy company that aims to bridge the gaps to well-being with an emphasis on vulnerable and marginalized communities of color. We aim to make a global impact one person at a time.
2. We serve TWO types of clients individuals and organizations.
3. We reach clients through THREE touchpoints: 1) Direct services through our Solutions4Women 2) Business Solutions targeting social and public health enterprises, and 3) Partnerships and networking with like-minded organizations and individuals to increase reach and capacity.

Check out our client list and success stories, then let us know what project you'd like us to work on or receive a free consultation.
Contact us to schedule an appointment.
Just Us Women Productions is a skilled team of dedicated consultants and advisors led by Founder & Chief Steward Tamara Wrenn. Each team member brings a wealth of experience from the non-profit and corporate world that united generate the conditions for successful outcomes and a greater impact on our clients and customers through our services and programs.
Tamara Wrenn, Founder & Chief Steward
I love my vision to make a global impact as a Mentor and Well-being Advocate for women. I believe that I can help my clients dig deeper, translate strategies into practice, uncover their priorities and core values, embrace their spirituality on multiple levels, and address the whole-self for greater success – while making every step feel like they are never alone. I am fully committed to letting my light shine. I've joined with like-minded professionals to bring you the best services and programs necessary to reach your vision and goals. I'm a bit quirky, a character trait I am very proud of – and I love music, dancing, reading, learning, adventures, and prayer time.  I'm learning to build an Adobe home. Read my bio to learn more.
Susan Bigelow, Senior Technical Writer Consultant
I am a Senior Technical Writer who has rendered service to many corporate industries for over 30 years. I've worked with Just Us Women Productions (JUWP) on special projects for several years and I bring an eye for detail to every project on which I collaborate. I believe the JUWP vision and mission of well-being are core to being a complete individual in heart, mind, and spirit. While many believe work is all about impressing, having a great sense of well-being based on Christ's values allows for a more in-depth work ethic. I am a fun-loving, practical, serious woman of God whose beauty is revealed as you get to know me. I have been an avid soccer player since age 12 and still play today!
LaTonya Baruc, Transformation Coach and Wellness Consultant
I am a Transformation Coach and Dance Minister. The other equally important hats I wear are Lover of God, wife, and mom. I have been called by God to bring healing and deliverance through fitness, movement, dance and the art of W.A.R (Worship Anointed to Redeem). I've teamed up with Tamara as the co-facilitator of the Annual Faith & Fitness Retreat. Together we help women realize spiritual, emotional and physical transformation. My earthly credentials: Certified Personal Trainer of 16 years, Licensed Zumba® Fitness Instructor, and Holistic Life Coach – I've done the work so that I can help you do yours.
Kathy Edenzon, Public Engagement Advisor
I am an alumna of the University of Alabama (UA). My work with Special Olympics and international student exchange and au pair programs reflect my dedication to empowering and uplifting "all youth." Over the years I've had the pleasure of being an informal advisor to Tamara's work, therefore, the chance to come on board formally as a dedicated team member of JUWP is wonderful. I connect with the leadership style of JUWP's Chief Steward and her selfless commitment to serving others. I look forward to helping the company build services that engage clients through coordinated and high-quality approaches. I was an All-American swimmer at UA and since relocating to the Sunshine State with my family I have taken up the sport of Rowing.
Colete Sturgis, Public Engagement Advisor
I am a Maternal and Child Health (MCH) professional. My credentials include Doula Certification, Certificate in Whole Health Education, and I am an International Board Certified Lactation Consultant. In the role of Program Coordinator for the Maternal and Infant Community Health Collaborative, I lead a team of exemplary Community Health Workers who provide services to pregnant and parenting women in underserved areas of the South Bronx. My work with Tamara spans over a decade collaborating in the Bronx on committees and coalitions to improve MCH. As a key member of the team, I am dedicated to helping to enhance the ways that JUWP engages with its clients and in supporting its development of innovative programs and services. The company mission speaks to my goal of improving the health of women and their families. In my spare time, I enjoy gardening and I recently began to work on an art journal.
Donzà Conway, Creative Consultant
I am a student pursuing a degree in Nursing. I excel at working with people and I have terrific communication skills. I'm goal oriented, an easy learner, and motivated to achieve success. I've had the opportunity and pleasure to work with the company in an advisory capacity for several years. In my role as a creative, I share my insight and expertise on social media platforms, website and copy design, and I lend support on special projects as needed.
Partial Client List
Association of Perinatal Networks of New York • Choices in Childbirth • Children's Health & Research Foundation • Oklahoma Family Health Coalition • National Healthy Start Association • New York State Perinatal Association • Richmond Healthy Start Initiative • Wisconsin Alliance for Women's Health • Southwest Wisconsin Technical College, Direct Entry Midwife Program • Northern Manhattan Perinatal Partnership • Practice Matters • Nassau County Perinatal Services Network • University of North Texas, Health Science Center School of Public Health • Office of Minority Health • New York State Balance • Racine Infant Mortality Coalition • Maternal Infant Services Network of Orange, Sullivan, and Ulster Counties • Real Birth Education Center • Central New Jersey Maternal and Child Health Consortium • Lower Hudson Valley Perinatal Network • National Summit on Preconception Health~CDC
Testimonials
"Continue doing a wonderful job. This was excellent. Your spirituality is a plus in everything you do." National Sorority of Phi Delta Kappa, Eastern Conference
"This retreat blessed me beyond words." Move with the Spirit Faith & Fitness Retreat
"I really enjoyed the webinar. As I listened to it live I had more than one aha moment. I thought to myself sometimes it is hard to get out what you need to say when you're trying to understand what the doctor is telling you. Honestly I learned a lot and I'm ready for the next one. The steps to communication that Tamara laid out were very useful." 9 Tips for Clear & Confident Communication During Your Prenatal Visits, Webinar Participant
"The seminar was excellent. Tamara did a great job." Office of Preventive Family Team Counseling, Staff Retreat
Tamara Wrenn, MA, CCCE, CD
Just Us Women Productions
P. O. Box 744
Harriman, NY 10926-0744
info@justuswomen.org
914-595-2065
Blog posts
Business Hours
Monday – Thursday 10am – 5:00 PM
Friday 10am – 3:00 PM
Closed
Saturday, Sunday, and Major Holidays