Tamara Wrenn, MA, CCCE, CD is the Founder & Chief Steward of Just Us Women Productions, LLC, a well-being advocacy company that aims to bridge the gaps in well-being with an emphasis on vulnerable and marginalized communities of color. For more than 20 years she has served and worked within health and social service enterprises that serve women and their families. Her professional career began in the Bronx, providing adolescent case management services for pregnant and parenting teens, community based reproductive health education, and STI (sexually transmitted infections) prevention.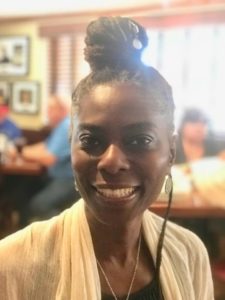 She facilitated the coalition building process between clinical providers and community based organizations to convene a strong and committed coalition charged with identifying and closing the gaps in perinatal health in the Bronx. In this role, she successfully administered a $1.2 million grant from the New York State Department of Health, Bureau of Women's Health, and joined a city-wide network of community based perinatal health organization's fighting high infant mortality rates throughout New York City, particularly in African-American Communities. This work has taken Tamara across the country where she conducts presentations, trainings, keynotes, and workshops for stakeholders invested in decreasing health disparities and increasing health equity in maternal and child health. Her expertise includes engaging her clients in using the life course theory, collective impact framework, strategic planning, and building a social public health movement for change.
Tamara serves as the Executive Director of the Foundation for the Advancement of Midwifery, Inc. and has previously served on the organization's board of directors. She served two terms as the Board President of the Childbirth Education Association of Metropolitan NY and was the Assistant Executive Director of The Bronx Health Link, Inc. Through her company, Just Us Women Productions, Tamara provides consulting services that include strategic planning, operational consulting, curriculum design and development, and training and workshops that address women's health and maternal and child health topics.
Throughout her career, she has assisted the organizations she served and her clients in securing more than $5 million in grants aimed to provide support to various health and social service programs. Tamara is a master communicator and conducts workshops on improving professional communication skills (i.e., public speaking). Her diverse training and background includes certifications as a group fitness instructor, doula (CD), certified cooperative childbirth educator (CCCE), and a trained coach with a certificate in Wellness Coaching from Wellcoaches®. Her continuing education includes staying abreast of trends in women's health, public and perinatal health, and natural remedies. She uses her background in fitness to lead Annual Faith and Fitness Retreats for women. In her fitness and wellness work Tamara serves all women with a special focus on Black women to increase health equity and reduce disparities. She earned her Bachelor's Degree in Marketing from Iona College and her Master's Degree in Counseling and Guidance from New York University.
Raised in the Bronx during the birth of hip-hop, working "in her neighborhood" from an early age gave her a unique perspective of the community, as well as a heart for its people. Tamara's dedication has been recognized with the following awards: Ruben Diaz, Jr., Bronx Borough President, 2013 Citation of Merit, Caribbean Heritage Month; 2012 LEAP Equity Award – a collaboration among the Lanza Family Foundation, the Women's Research and Education Fund (WREF) and the Women's Enterprise Development Center (WEDC); 2010 Women's Enterprise Development Fund Alumnae Scholarship; and 2008 WEDC Women & Company® Microenterprise Boost Program Equity Award.
A midwife to god-dreamers, Tamara wants to live in a world that treasures women and children because they are the cornerstone of a healthy society.  When she awakes every morning her goal is to let her light shine while successfully reaching her goals and when she is not serving her clients you can find her leading Zumba® Fitness and SharQui® Bellydance workouts and dancing like no one is watching. Contact Tamara